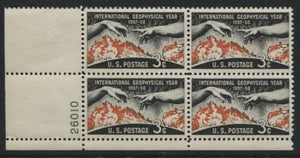 1958 Int Geophysical Year Plate Block of 4 3c Postage Stamps - MNH, OG - Sc# 1107
1958 Int Geophysical Year Plate Block of 4 3c Postage Stamps - MNH, OG - Sc# 1107
U.S. #1107's design was based on a photograph of the Sun, taken during the International Geophysical Year, an international scientific project. During the 18 months of the project, the Sun gave off tremendous bursts of energy - an event that was observed by project members during the study. That was just one of the highlights during project's time. Others included the launching of Sputnik I, the first man-made satellite sent into orbit around the Earth. The U.S. soon followed with the Explorer I satellite - the country's first successful launch. Also shown on this stamp is part of Michelangelo's famous painting, "The Creation of Adam," located on the ceiling of the Sistine Chapel. The rest of the image shows God breathing life into Adam. The stamp shows the portion of the mural where God's hand reaches out to touch Adam's hand - with a tiny space in between. It was described by Ervine Metzl, the stamp's designer, as an attempt to "picture man's wonder at the unknown, together with his determination to understand it and his spiritual inspiration to further his knowledge."
These are real USPS postage stamps that are accepted by the USA Postal Service as payment for mail posted in the USA however the total rates on the stamps posted must equal or exceed the current appropriate postal mailing rate or extra postage must be paid.
The stamp set shown in the picture is a stock photo and is likely not a picture of the exact stamp set you will receive and it may differ in plate number and/or orientation. However the item you will receive will be similar including having a plate number (if one is present in the photos) and the same number of stamps. Stamps titled as MNH, OG will have no significant creases or unnatural gum disturbances unless otherwise noted.