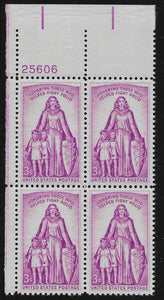 1957 Honoring Those Who Fight Polio Plate Block of 4 3c Postage Stamps - MNH, OG - Sc# 1087
1957 Honoring Those Who Fight Polio Plate Block of 4 3c Postage Stamps - MNH, OG - Sc# 1087
U.S. #1087 was designed to symbolize the struggle against polio. Also called "Infantile Paralysis," polio affects thousands of Americans each year. It paralyzes muscles and destroys nerve cells, frequently cripples a person, and sometimes results in death. The worst year for polio in America was 1952, less than five years before this stamp was issued. Over 57,000 people in the U.S. contracted the disease. In 1953, Dr. Jonas Salk developed a vaccine to prevent polio. In 1957 – the same year this stamp was issued – an oral vaccine was developed by Dr. Albert Sabin. Today, between 10 to 20 million people around the world suffer from polio. The stamp's image features a woman holding an emblem, and a boy and girl. The caption, "Honoring Those Who Helped Fight Polio" is across the top. The children represent young people who most benefitted from advances in combating the affliction. The emblem is the "Caduceus," the symbol of the U.S. Medical Corps and the general medical profession. The Caduceus is a short staff with two snakes twined around it, and often shown with a pair of wings at the top. Snakes were associated with Aesculapius, the ancient Greek God of Medicine. His staff was believed to cure people with just a touch. The symbol of the medical profession reflects this concept – but with the presence of a single snake. Western society frequently adds a second snake.
These are real USPS postage stamps that are accepted by the USA Postal Service as payment for mail posted in the USA however the total rates on the stamps posted must equal or exceed the current appropriate postal mailing rate or extra postage must be paid.
The stamp set shown in the picture is a stock photo and is likely not a picture of the exact stamp set you will receive and it may differ in plate number and/or orientation. However the item you will receive will be similar including having a plate number (if one is present in the photos) and the same number of stamps. Stamps titled as MNH, OG will have no significant creases or unnatural gum disturbances unless otherwise noted.