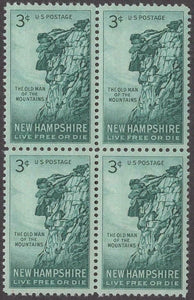 1955 New Hampshire Block Of 4 3c Postage Stamps - Sc 1068 - MNH - CW438a
1955 New Hampshire Block Of 4 3c Postage Stamps - Sc 1068 - MNH - CW438a
On June 21, 1955 in Franconia, NH; the USPS issued this stamp depicting the rock formation known as the Old Man of the Mountain, also known as the Great Stone Face or the Profile, in Franconia New Hampshire. It was a series of five granite cliff ledges on Cannon Mountain in the White Mountains of New Hampshire, USA that, when viewed from the correct angle, appeared to be the jagged profile of a face. The rock formation was 1,200 feet above Profile Lake, and measured 40 feet tall and 25 feet wide. The site is located in the town of Franconia. The first recorded mention of the Old Man was in 1805. It collapsed on May 3, 2003.
These are real USPS postage stamps that are accepted by the USA Postal Service as payment for mail posted in the USA however the total rates on the stamps posted must equal or exceed the current appropriate postal mailing rate or extra postage must be paid.
The stamp set shown in the picture is a stock photo and is likely not a picture of the exact stamp set you will receive and it may differ in plate number and/or orientation. However the item you will receive will be similar including having a plate number (if one is present in the photos) and the same number of stamps. Stamps titled as MNH, OG will have no significant creases or unnatural gum disturbances unless otherwise noted.