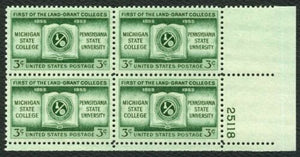 1955 Land Grant Colleges Michigan State, Penn State Plate Block of 4 Stamps - MNH, OG - Sc# 1065 -CX921
1955 Land Grant Colleges Michigan State, Penn State Plate Block of 4 Stamps - MNH, OG - Sc# 1065 -CX921
On February 12, 1955 in East Lansing, MI; the USPS noted the 100th anniversary of the first Land-Grant colleges, Michigan State College and Pennsylvania State University. Land-grant universities (also called land-grant colleges or land grant institutions) are institutions of higher education in the United States designated by each state to receive the benefits of the Morrill Acts of 1862 and 1890. The Morrill Acts funded educational institutions by granting federally controlled land to the states for the states to develop or sell to raise funds to establish and endow "land grant" colleges. The mission of these institutions as set forth in the 1862 Act is to focus on the teaching of agriculture, science and engineering as a response to the industrial revolution and changing social class rather than higher education's historic core of classical studies.
These are real USPS postage stamps that are accepted by the USA Postal Service as payment for mail posted in the USA however the total rates on the stamps posted must equal or exceed the current appropriate postal mailing rate or extra postage must be paid.
The stamp set shown in the picture is a stock photo and is likely not a picture of the exact stamp set you will receive and it may differ in plate number and/or orientation. However the item you will receive will be similar including having a plate number (if one is present in the photos) and the same number of stamps. Stamps titled as MNH, OG will have no significant creases or unnatural gum disturbances unless otherwise noted.