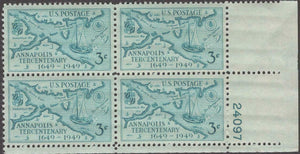 1949 Annapolis Anniversary Plate Block of 4 3c Postage Stamps - MNH, OG - Sc# 984
1949 Annapolis Anniversary Plate Block of 4 3c Postage Stamps - MNH, OG - Sc# 984
U.S. #984 was issued to commemorate the 300th anniversary of the founding of Annapolis, Maryland. Established by Puritan settlers who were exiled from Virginia in 1649, the location was first named Providence. The stamp's design, which pictures a map of the region, had the words "First Settlement - Providence" to indicate its location. But since the term "Providence" was no longer used in any form, "Original Settlement" was used instead. The Puritans are represented on the stamp in the image of a boat headed to the new settlement. Also shown on the stamp is the coat of arms of Cecilius Calvert, Lord Baltimore - the first proprietor of the Maryland colony. Annapolis has since become the capital of Maryland. The city also was the temporary capital of the newly formed United States of America, from 1783 to 1784. The city is home to the U.S. Naval Academy, as well as St. John's College - founded in 1696 and the third-oldest college in the United States.
These are real USPS postage stamps that are accepted by the USA Postal Service as payment for mail posted in the USA however the total rates on the stamps posted must equal or exceed the current appropriate postal mailing rate or extra postage must be paid.
The stamp set shown in the picture is a stock photo and is likely not a picture of the exact stamp set you will receive and it may differ in plate number and/or orientation. However the item you will receive will be similar including having a plate number (if one is present in the photos) and the same number of stamps. Stamps titled as MNH, OG will have no significant creases or unnatural gum disturbances unless otherwise noted.