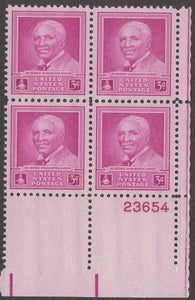 1948 George Washington Carver Plate Block of 4 3c Postage Stamps - MNH, OG - Sc# 953 - CX931
1948 George Washington Carver Plate Block of 4 3c Postage Stamps - MNH, OG - Sc# 953 - CX931
U.S. #953 3 George Washington Carver Issue Date: January 5, 1948 City: Tuskegee Institute, AL Quantity: 121,548,000 Printed by: Bureau of Engraving and Printing Printing Method: Rotary Press Perforations: 10 1/2 x 11 Color: Bright red violet U.S. #953 honors Dr. George Washington Carver and features the same format as the 1940 Famous American Scientists stamps. George Washington Carver (1864-1943) Scientist This black American scientist achieved international fame for his agricultural research. Carver developed more than 300 products that could be produced from peanuts. Products invented by Carver include a milk substitute, face powder, printer's ink, and soap. He created principles of crop rotation that deeply impacted farming in the South. Booker T. Washington appointed him Director of Agriculture at the Tuskegee Institute and he received an honorary doctorate from Iowa's Simpson College where he was the first black student.
These are real USPS postage stamps that are accepted by the USA Postal Service as payment for mail posted in the USA however the total rates on the stamps posted must equal or exceed the current appropriate postal mailing rate or extra postage must be paid.
The stamp set shown in the picture is a stock photo and is likely not a picture of the exact stamp set you will receive and it may differ in plate number and/or orientation. However the item you will receive will be similar including having a plate number (if one is present in the photos) and the same number of stamps. Stamps titled as MNH, OG will have no significant creases or unnatural gum disturbances unless otherwise noted.