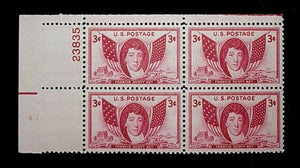 1948 Francis Scott Key Plate Block of 4 3c Stamps - MNH, OG - Sc# 962 - CX932
On August 9, 1948 in Frederick, MD; the USPS honored Francis Scott Key, author of The Star-Spangled Banner. During the War of 1812, Key, a lawyer, accompanied by the American Prisoner Exchange Agent Colonel John Stuart Skinner, dined aboard the British ship HMS Tonnant, to negotiate the release of prisoners. Unable to immediately return to Baltimore, Key watched the bombarding of the American forces at Fort McHenry during the Battle of Baltimore on the night of September 13–September 14, 1814. When the smoke cleared, Key was able to see an American flag still waving and reported this to the prisoners below deck. On the way back to Baltimore, he was inspired to write a poem describing his experience, "The Defence of Fort McHenry". It has become better known as "The Star Spangled Banner". Under this name, the song was adopted as the American national anthem, first by an Executive Order from President Woodrow Wilson in 1916 (which had little effect beyond requiring military bands to play it) and then by a Congressional resolution in 1931, signed by President Herbert Hoover. The United States adopted the motto "In God We Trust" (from the in the fourth stanza) by law in 1956. Scott was born on August 1, 1779 and died on January 11, 1843 at the age of 63.

These are real USPS postage stamps that are accepted by the Postal Service as payment for mail however the rates on the stamps must equal or exceed the current appropriate postal mailing cost or extra postage must be paid for if using them for mailing.
The stamp set shown in the picture is a stock photo and is likely not a picture of the exact stamp set you will receive in that it may differ in plate number and/or orientation. However the item you will receive will be similar including having a plate number (if one is present in the photos) and the same number of stamps.