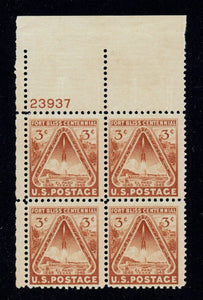 1948 Fort Bliss Centennial Plate Block of 4 3c Postage Stamps - MNH, OG - Sc# 976
U.S. #976 1948 3 Fort Bliss Centennial Issue Date: November 5, 1948 City: El Paso, Texas Quantity: 64,561,000 Printed By: Bureau of Engraving and Printing Printing Method: Rotary Press Perforations: 10 ½ x 11 Color: Henna brown A theme of old and new is featured on U.S. #976 - the centennial issue commemorating Fort Bliss, near El Paso, Texas. The design of the stamp features a 19th century Spanish-style mission to commemorate its role as a key defense for the region. It also pictures a rocket launch, signifying the fort's history in the development of the American rocket program. Fort Bliss was one of the first American military bases to test rockets and train people in their use. In 1946, many of the German scientists freed by U.S. spies in World War II were stationed at Fort Bliss. The facility remains a primary training ground for U.S. military rocket personnel and testing.
These are real USPS postage stamps that are accepted by the USA Postal Service as payment for mail posted in the USA however the total rates on the stamps posted must equal or exceed the current appropriate postal mailing rate or extra postage must be paid.
The stamp set shown in the picture is a stock photo and is likely not a picture of the exact stamp set you will receive in that it may differ in plate number and/or orientation. However the item you will receive will be similar including having a plate number (if one is present in the photos) and the same number of stamps. Stamps titled as MNH, OG will have no significant creases or unnatural gum disturbances unless otherwise noted.