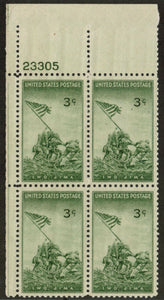 1945 Iwo Jima Marines Raising Flag Plate Block of 4 3c Postage Stamps - MNH, OG - Sc# 929
On July 11, 1945 in Washington DC; the USPS remembered The Battle of Iwo Jima (February 19 – March 26, 1945), or Operation Detachment, was a battle in which the United States fought for and captured Iwo Jima from Japan. The U.S. invasion was charged with the mission of capturing the two airfields on Iwo Jima. The battle produced some of the fiercest fighting in the Pacific Campaign of World War II. Iwo Jima was also the only U.S. Marine battle where the American casualties exceeded the Japanese, although Japanese combat deaths numbered three times that of Americans.
These are real USPS postage stamps that are accepted by the USA Postal Service as payment for mail posted in the USA however the total rates on the stamps posted must equal or exceed the current appropriate postal mailing rate or extra postage must be paid.
The stamp set shown in the picture is a stock photo and is likely not a picture of the exact stamp set you will receive in that it may differ in plate number and/or orientation. However the item you will receive will be similar including having a plate number (if one is present in the photos) and the same number of stamps. Stamps titled as MNH, OG will have no significant creases or unnatural gum disturbances unless otherwise noted.