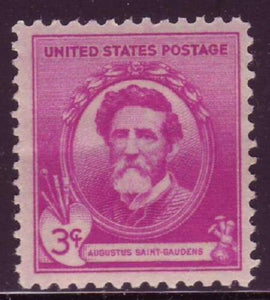 1940 Augustus Saint-Gaudens, Artist Single 3c Postage Stamp - Sc# 886 - MNH,OG CX448a
1940 Augustus Saint-Gaudens, Artist Single 3c Postage Stamp - MNH, OG - Sc# 886 - CX448a
Per Wikipedia: Augustus Saint-Gaudens (/ˌseɪntˈɡɔːdənz/; March 1, 1848 - August 3, 1907) was an American sculptor of the Beaux-Arts generation who embodied the ideals of the American Renaissance. Raised in New York City, he traveled to Europe for further training and artistic study. After he returned to New York, he achieved major critical success for his monuments commemorating heroes of the American Civil War, many of which still stand. Saint-Gaudens created works such as the Robert Gould Shaw Memorial on Boston Common, Abraham Lincoln: The Man, and grand equestrian monuments to Civil War generals: General John Logan Memorial in Chicago's Grant Park and William Tecumseh Sherman at the corner of New York's Central Park. In addition, he created the popular historicist representation of The Puritan.

Saint-Gaudens also created Classical works such as the Diana, and employed his design skills in numismatics. He designed the $20 Saint Gaudens Double Eagle gold piece (1905-1907) for the US Mint, considered one of the most beautiful American coins ever issued, as well as the $10 "Indian Head" gold eagle; both of these were minted from 1907 until 1933. In his later years he founded the "Cornish Colony", an artistic colony that included notable painters, sculptors, writers, and architects. His brother Louis Saint-Gaudens, with whom he occasionally collaborated, was also a well-known sculptor.
These are real USPS postage stamps that are accepted by the USA Postal Service as payment for mail posted in the USA however the total rates on the stamps posted must equal or exceed the current appropriate postal mailing rate or extra postage must be paid.
The stamp set shown in the picture is a stock photo and is likely not a picture of the exact stamp set you will receive and it may differ in plate number and/or orientation. However the item you will receive will be similar including having a plate number (if one is present in the photos) and the same number of stamps. Stamps titled as MNH, OG will have no significant creases or unnatural gum disturbances unless otherwise noted.