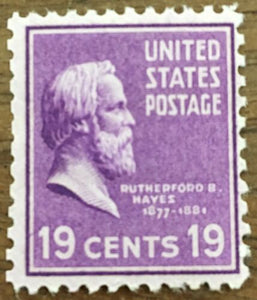 1938 President Rutherford B. Hayes Single 19c Postage Stamp - Sc# 824 - MNH,OG
1938 President Rutherford B. Hayes Plate Single 19c Postage Stamp - MNH, OG - Sc# 824
U.S. #824 19 Hayes 1938 Presidential Series Issue Date: November 10, 1938. Known affectionately as the "Prexies," the 1938 Presidential series is a favorite among stamp collectors. The 19 denomination pictures Rutherford Hayes. One of Hayes' acts as President was to withdraw the remaining federal troops from the South. When his term ended in 1881, he completely withdrew from politics and devoted himself to work in education, prison reform, and veteran's affairs.
These are real USPS postage stamps that are accepted by the USA Postal Service as payment for mail posted in the USA however the total rates on the stamps posted must equal or exceed the current appropriate postal mailing rate or extra postage must be paid.
The stamp set shown in the picture is a stock photo and is likely not a picture of the exact stamp set you will receive and it may differ in plate number and/or orientation. However the item you will receive will be similar including having a plate number (if one is present in the photos) and the same number of stamps. Stamps titled as MNH, OG will have no significant creases or unnatural gum disturbances unless otherwise noted.