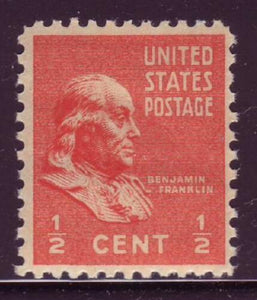 1938 Benjamin Franklin Single 1/2 Cent Postage Stamp - Sc# 803 - MNH,OG
1938 Benjamin Franklin Single 1/2 Cent Postage Stamp - MNH, OG - Sc# 803
U.S. #803 1938 1/2 Franklin Presidential Series Issue Date: May 19, 1938 First City: Philadelphia, PA Quantity Issued: 2,028,847,800 Printed by: Bureau of Engraving and Printing Printing Method: Rotary press Perforations: 11 x 10 ½ Color: Deep orange Known affectionately as the "Prexies," the 1938 Presidential series is a favorite among stamp collectors. The series was issued in response to public clamoring for a new Regular Issue series. The series that was current at the time had been in use for more than a decade. President Franklin D. Roosevelt agreed, and a contest was staged. The public was asked to submit original designs for a new series picturing all deceased U.S. Presidents. Over 1,100 sketches were submitted, many from veteran stamp collectors. Elaine Rawlinson, who had little knowledge of stamps, won the contest and collected the $500 prize. Rawlinson was the first stamp designer since the Bureau of Engraving and Printing began producing U.S. stamps who was not a government employee.
These are real USPS postage stamps that are accepted by the USA Postal Service as payment for mail posted in the USA however the total rates on the stamps posted must equal or exceed the current appropriate postal mailing rate or extra postage must be paid.
The stamp set shown in the picture is a stock photo and is likely not a picture of the exact stamp set you will receive and it may differ in plate number and/or orientation. However the item you will receive will be similar including having a plate number (if one is present in the photos) and the same number of stamps. Stamps titled as MNH, OG will have no significant creases or unnatural gum disturbances unless otherwise noted.