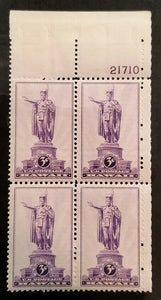 1937 Hawaii Territory Plate Block Of 4 3c Postage Stamps - Sc# 799 - MNH - CV34
1937 Hawaii Territory Plate Block Of 4 3c Postage Stamps - Sc# 799 - MNH - CV34
Standing in Honolulu, Hawaii, this statue honors the King who first united the Hawaiian Islands. Kamehameha I - First King of Hawaii Kamehameha was born into a family of great chiefs around 1758, when the Hawaiian Islands were ruled by several powerful chiefs. Using firearms and cannons purchased from European traders, Kamehameha began a struggle to unify the islands into a kingdom in 1782. By 1795, he had conquered all of the main islands except Kauai and Niihau. In 1810, Kaumualii, the ruler of Kauai and Niihau, peacefully accepted Kamehameha as king.
These are real USPS postage stamps that are accepted by the USA Postal Service as payment for mail posted in the USA however the total rates on the stamps posted must equal or exceed the current appropriate postal mailing rate or extra postage must be paid.
The stamp set shown in the picture is a stock photo and is likely not a picture of the exact stamp set you will receive and it may differ in plate number and/or orientation. However the item you will receive will be similar including having a plate number (if one is present in the photos) and the same number of stamps. Stamps titled as MNH, OG will have no significant creases or unnatural gum disturbances unless otherwise noted.